However, the problem of the national sobriety, understood within wide frames, forces out a proper and dignified importance among numerous decidents and state officials with a difficulty. The association does not conduct economic activities. It performs its tasks on the basis of subsidies and donations. The functioning of the editorials also depends on them. The team works in difficult office conditions, without a due computer and editing equipment, polygraphic machines, other mobile facilities. Thus, the maintenance of an independent magazine in present conditions always poses a threat of a loss of the possibility of functioning and is similar to "dancing on a rope".
THE POLISH SOBRIETY LEAGUE is a multi-layer and pluralistic society. It respects the autonomy of 10 local sobriety associations confederated with it, but it integrates them and closely co-operates with them. There are free legal counselling services for families with addiction problems, for pupils, students, and employers in the Polish Sobriety League. The Polish Sobriety League runs also a help-line, organises training for young sobriety leaders for teachers and educators from socio-therapeutic centres for children and adolescents from the so-called difficult families. It organises summer holidays for children and adolescents, events, e.g. at the occasion of Christmas, the International Children's Day, competitions, rallies, and many other socially important events.
THE RANGE OF THE POVERTY AND THREATS connected with it is, however, constantly widening, and the group of donors supporting activities for the benefit of the widely understood sobriety, especially among the young generation, is shrinking. But, the problems of a child in a holistic view cannot be postponed. A child cannot wait with its problems. The phenomenon of using alcohol and drugs, as well as health, educational, social, economic, demographic, or criminal threats resulting from it is alarming.
SOCIAL ACTIVISTS, members of the Scientific and Social Board of the Polish Sobriety League, as well as the editorials' team of "Problemy Alkoholizmu" monthly, appeal to men of intellect, who care for the biological health of the young generation to financially support the works of the Polish Sobriety League. We all have to join our efforts in our strives towards making the nation sober.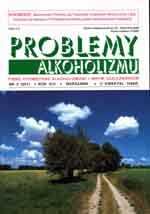 POLSKA LIGA TRZE¬WO¦Ć
00-660 Warszawa, ul. Lwowska 5/4
Bank Gdański SA IV Oddz. Warszawa
Nr konta 11601120-13680-132,